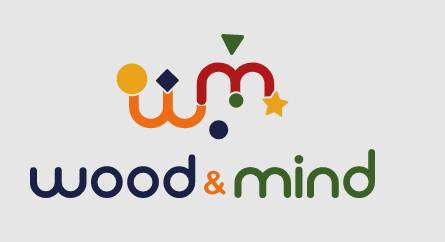 FREE
---
Toy is one of the basic necessities of childhood. On the one hand, to be busy, to have fun, to give oneself; on the other hand, to design for the future, to grow, to prepare for participation in adult life…



Toy, like play, is the universal language of the childhood world. There is no child who does not know the language of the toy. The meaning of the toy varies according to the value attributed by the players.



Children may ascribe to toys functions, meanings, structures and images that adults never thought of when designing them. For this reason, the toy should be like a dough in the child's hand, it should be kneaded until it takes the desired shape.



Wood and Mind, which emerged in the light of all these thoughts;



It is far from gender and social roles. While preparing children for life, it frees their minds by distracting them from learned missions. It works to raise generations who can add their own teachings to the world and express themselves well.

A box toy that is gifted to a child is not just a single toy, it turns into a new toy every day as long as he can imagine it. Individuals who reproduce and transform by producing, not consuming them, dream.

It multiplies dreams by mixing them together, is suitable for group activities, supports collective consciousness.

He knows that playing games is a labor-intensive and serious business, and behaviorally places discipline, order, fighting spirit and a solutionist perspective.

It encourages analytical thinking, supports the growth of bright minds that can challenge life's challenges.

It knows that there will be no play with children's health, does not use any materials that will threaten children's health in its production. It produces its toys by working hand in hand with mother nature.

He evaluates the child with all his colors, does not impose a behavior, respects his ideas and develops their ideas. It prepares a libertarian ground for children to express themselves.
Oyuncak, çocukluğun temel gereksinimlerinden biridir. Bir yanda meşgul olmak, eğlenmek, kendini vermek; öte yanda geleceğe yönelik tasarımlarda bulunmak, büyümek, yetişkin yaşamına katılım için hazırlık yapmak…



Oyuncak, oyun gibi, çocukluk dünyasının evrensel dilidir. Oyuncağın dilini bilmeyen çocuk yoktur. Oyuncağın anlamı, oyuncular tarafından atfedilen değere göre değişir.



Çocuklar, oyuncaklara, yetişkinlerin onları tasarımlarken hiç düşünmedikleri birtakım işlev, anlam, yapı ve imgeler atfedebilirler. Bu nedenle oyuncak, çocuğun elinde bir hamur gibi olmalıdır, istenilen şekli alana kadar yoğrulabilmelidir.



Bütün bu düşünceler ışığında ortaya çıkan Wood and Mind;



Cinsiyet ve toplumsal rollerden uzaktır. Çocukları hayata hazırlarken, onları öğrenilmiş misyonlardan uzaklaştırarak, zihinlerini özgür kılar. Kendi öğretisini dünyaya katabilecek, kendini iyi ifade edebilecek nesillerin yetişmesi için çalışır.

Çocuğa hediye edilen bir kutu oyuncak sadece tek bir oyuncak değildir, hayal edebildiği sürece her gün yeni bir oyuncağa dönüşür. Tüketerek bitiren değil, üreterek çoğaltan ve dönüştüren bireyler hayal eder.

Hayalleri birbirine karıştırarak çoğaltır, grup aktivitelerine uygundur, kolektif bilinci destekler.

Oyun oynamanın emek isteyen, ciddi bir iş olduğunu bilir, disiplini, düzeni, mücadele ruhunu ve çözümcü bakış açısını davranışsal olarak yerleştirir.

Analitik düşünmeye sevk eder, hayatın meydan okumalarına kafa tutabilecek parlak zihinlerin yetişmesine destek olur.

Çocuk sağlığı ile oyun olmayacağını bilir, üretiminde çocuk sağlığını tehdit edecek herhangi bir malzeme kullanmaz. Oyuncaklarını doğa ana ile el ele vererek üretir.

Çocuğu bütün renkleri ile değerlendirir, bir davranış biçimi dayatmaz, fikirlerine saygı duyar ve onların fikirleri gelişir. Çocuklara kendilerini ifade etmek için özgürlükçü bir zemin hazırlar.
اللعبة هي إحدى الضروريات الأساسية للطفولة. من ناحية ، أن تكون مشغولاً ، وأن تستمتع ، وأن تمنح نفسك ؛ من ناحية أخرى ، للتصميم للمستقبل ، للنمو ، للتحضير للمشاركة في حياة الكبار ...



اللعبة ، مثل اللعب ، هي اللغة العالمية لعالم الطفولة. لا يوجد طفل لا يعرف لغة اللعبة. يختلف معنى اللعبة حسب القيمة التي ينسبها اللاعبون.



قد يعزو الأطفال وظائف ومعاني وتركيبات وصور الألعاب التي لم يفكر بها الكبار أبدًا عند تصميمها. لهذا السبب يجب أن تكون اللعبة مثل العجين في يد الطفل ، ويجب أن تكون قابلة للعجن حتى تأخذ الشكل المطلوب.



الخشب والعقل الذي ظهر في ضوء كل هذه الأفكار ؛



إنه بعيد عن الأدوار الجنسانية والاجتماعية. أثناء إعداد الأطفال للحياة ، فإنه يحرر عقولهم من خلال تشتيت انتباههم عن المهام المكتسبة. إنه يعمل على تربية أجيال يمكنها إضافة تعاليمهم الخاصة إلى العالم والتعبير عن أنفسهم بشكل جيد.

إن صندوق الألعاب الذي يُمنح للطفل ليس مجرد لعبة واحدة ، بل يتحول إلى لعبة جديدة كل يوم طالما أنه يستطيع تخيلها. يحلم الأفراد الذين يتكاثرون ويتحولون من خلال إنتاجهم وليس استهلاكهم.

إنه يضاعف الأحلام عن طريق مزجها معًا ، وهو مناسب للأنشطة الجماعية ، ويدعم الوعي الجماعي.

إنه يعلم أن ممارسة الألعاب عمل جاد كثيف العمالة ، وهو يدمج الانضباط والنظام والروح القتالية ووجهة نظر الحلول السلوكية.

يشجع التفكير التحليلي ويدعم نمو العقول اللامعة التي يمكنها تحدي تحديات الحياة.

إنها تعلم أنه لن يكون هناك لعب مع صحة الأطفال ، ولا تستخدم أي مواد من شأنها أن تهدد صحة الأطفال في إنتاجها. ينتج ألعابه جنبًا إلى جنب مع الطبيعة الأم.

يقيم الطفل بكل ألوانه ولا يفرض سلوكًا ويحترم أفكاره ويطور أفكاره. إنه يهيئ أرضية تحررية للأطفال للتعبير عن أنفسهم.